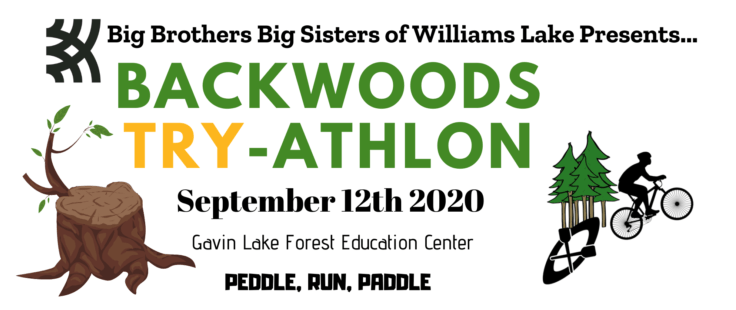 Big Brothers Big Sisters 2nd  Annual BACKWOODS TRY-Athlon September 12th 2020.
Run, Bike & Paddle on the shores of Gavin Lake. Take part in the fully supported event. While your at Gavin Lake you will be greeted by friendly faces, music, hot showers, and great food.
Pre-Registration $50 per person, (BBQ included) must commit to raising $50 in pledges.
The Rotary has generously offered to run a BBQ from 12 -4 pm for free to the  participates & will be available for guest & participants to enjoy!
Extra Dinner Guest $15, children 11 & under free.
Sign-in opens @ 10:00 at Gavin Lake – Event starts @ 11:00. ( depending on the amount of interest, we may have staggered starts)
Mountain Bike-11 km,   Trail Run- 7 km,   Kayak, Paddle – 5 km Gavin Lake
You supply your mode of water travel (any non motorized is welcome kayak, paddle board, canoe etc). We have some kayaks and canoes, please ask for more information.
Ride as an individual or Relay Team- There will be a limit of 6 participates in your relay team, you make the rules. Relay- you can have 1 person or more pedal, 1 person or more run, and you can have 1 or more  canoe, kayak etc, or change it up to whatever works for your team or you can all do all the events together, make it your challenge to complete.
New COVID-19 Protocol for TRY-Athlon participants, spectators, and volunteers:-all must follow hygiene practices such as frequent hand washing or sanitizing and respiratory etiquette-maintaining a 2 metre space for physical distancing, and self monitoring for symptoms prior to the event-all must stay home if they become ill before the event, or if they are taking care of someone who is ill
Despite how excited everyone will be during the TRY-Athlon, we must reinforce general personal practices to maintain physical distancing, such as avoiding greetings like handshakes, high fives, fist bumps, and hugs (yet "air" high fives will be strongly encouraged!)